There's really only one goal when buying a birthday gift for your best friend, favorite aunt, sister, or significant other – you want to make her feel special. After all, it's her big day! beCAUSE minded is women-owned and run. So, when creating birthday gifts for her, we created gift boxes we ourselves would love to receive!
Here are some of our top picks!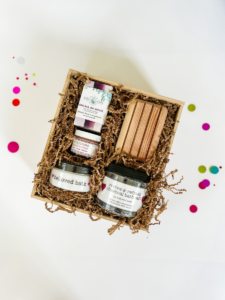 bePAMPERED
This wellness gift box is one of our best-sellers for a reason. I mean, what woman wouldn't want to be pampered on her birthday? This gift box includes our cleansing rose clay face mask, detoxifying charcoal bath salts, moisturizing body butter, and jubilee jam soap with a pine soap dish. We carefully selected these products that are suitable for even the most sensitive skin types. She's sure to enjoy this spa-at-home experience that will have her feeling like her best self!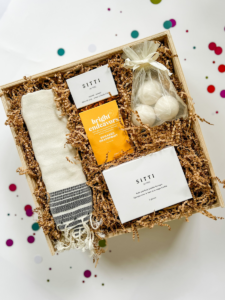 beSERENE
This gift box is perfect for celebrating your work bestie, girl friends, partner, or even your clients. The beSERENE gift box features a sugared grapefruit candle, an absorbent full-sized Pestemal bath towel, honey oatmeal bath bombs, and the perfectly paired moisturizing olive oil soap and exfoliating natural loofahs. When we were naming this gift box, our team instantly agreed that it creates the setting for serenity, something that's hard to find in our daily hustle. This gift box is perfect for any woman whose schedule resembles a game of Tetris.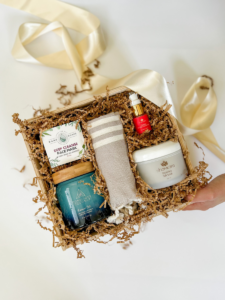 beRADIANT
We believe every woman has an inner radiance that is as unique as she is. Featuring our favorite facial treatments, this gift box has everything she needs to help her natural radiance shine! The exfoliating Dead Sea salt scrub and antioxidant-rich kumkumadi oil are wonderful when used separately and magical when used together. The cold-pressed coconut oil has 4x the antioxidants of other coconut oils and is suitable for the face and body. The detoxifying mud mask draws out impurities while tightening and toning her complexion. And to dry off – our soft and absorbent Pestemal hand towel.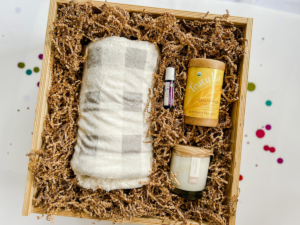 beRESTED
A super soft sherpa blanket, a hot cup of chamomile tea, a naturally-scented lavender candle, and an essential oil roller designed to help her breathe in relaxation – doesn't this sound like the perfect recipe for rest? When these relaxation-inducing gifts are paired with silence, she'll have restful vibes coming in through all her senses. If you're looking for personal gifts or branded business gifts that promote downtime, the beRESTED gift box is just the right fit.
These wellness gift boxes are sure to make your lovely lady feel recharged and adored. Bonus: Add a thoughtful handwritten note (we offer this for free on the website) to tell her just how much she means to you.
As with all of our products, these empowering gifts support employment for the vulnerable or give financially toward a cause. These gifts will make her feel good physically and emotionally. It's never been easier to give the gift of self-care and world change in one keepsake gift box.
Is your birthday coming up? What are your plans?