To some people, creating the perfect holiday ambiance comes naturally. You know those people. They pull out all the snowmen and reindeer just after (or sometimes before!) Halloween. They seem to always have some kind of fresh holiday cookies in the oven. And they have strands of tinsel in their hair. The world needs those people. But I am not one of them. Creating a winter wonderland in my home is not something that comes naturally to me. It's not that I'm a Scrooge, but it's just not my area of strength and for a long time, I was ok with not putting out any holiday décor.
Then I had kids. And suddenly Christmas was magical again. And I wanted to create a holiday experience for them, to the best of my ability. I didn't suddenly turn into one of the people I described above, but I have invested at least $50 in various holiday items to place around the house. And I've gotten better at sugar cookie baking. But I would certainly not say I'm a natural.
Around this time, you're probably getting ready to wrap all of your personal and corporate gifts. If you've never tried it, we'd recommend wrapping your gifts with a little holiday cheer! If you're like me and playing Santa's elf doesn't come naturally to you – here are some tips on creating that perfect ambiance for gift-wrapping, holiday cookie decorating, or last-minute online shopping!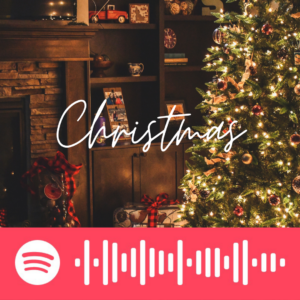 1. Music
You can use a ready to go playlist on your favorite music provider (check out Jacquelyn's Spotify Christmas playlist here!) or you can create your own. By making your own you can eliminate the Christmas songs that make you cringe. For me, it's the "All I want for Christmas is my Two Front Teeth." Can anyone relate?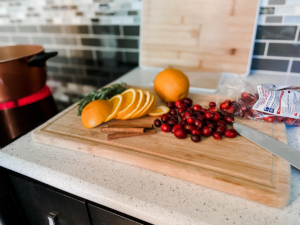 2. Smells
If you want to fill your home with a holiday smell, but don't want to mess up your kitchen with flour and powdered sugar, try this recipe! Grab a big pot, add some apples, a couple of cinnamon sticks, oranges, and rosemary and bring to a simmer. Aaaahhhh….Smells great, right? And once you're done, you have just the one pot to clean. Not bad!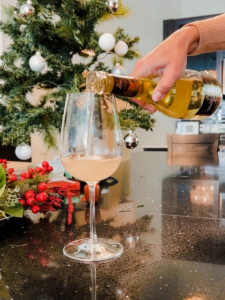 3. Wine or your favorite wintertime beverage
Depending on what you're doing – wine or a cinnamon tea can be a great addition! Even better if you have a fun holiday-oriented wine glass to add some extra cheer. We feel like your favorite beverage can go with just about any holiday activity!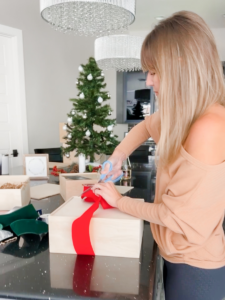 4. Wrapping Supplies
While I may not be the biggest holiday décor aficionado, I make up for it in my gift wrapping skills. To get myself in the wrapping mood, I do all of the above, and then set up a big station where I can have all my ribbon, gift tags, holiday gift boxes, etc. spread out. Then I go to town with all the glittery bows…while my husband busts out the vacuum.
We hope these tips help you embrace the spirit of the season as you make your final preparations!
What about you – are you a natural at creating a holiday ambiance? Tell us your tips in the comments below!