Every time someone orders one of our wellness gift boxes, we throw confetti. Ok – we don't actually throw confetti – can you imagine the mess, lol?!? But we do celebrate every order because every time someone checks out, it impacts our corporate gift suppliers. It means an orphan has hope, a sex trafficking survivor has employment, or a village in Uganda has clean water. It's really a wonderful feeling.
And if one order creates a ripple, an order for 1,000 gift boxes creates a (good kind of) tsunami! These large orders usually come from clients looking for corporate gift boxes for employees or clients. Sometimes they order dozens, or even thousands, of luxury branded corporate gifts. And while we, of course, celebrate these orders, we can't spend too much time throwing confetti. These orders take a lot of planning! How do we prep for these larger orders?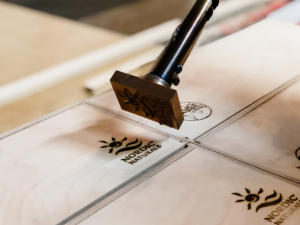 1. Get a high-res logo from our client & purchase a custom branding iron.
We use a custom branding iron to add the logo to our branded business gifts. We actually burn these into the keepsake wooden boxes one by one. We love this touch that makes our gift boxes really different from others. Our clients love that our wooden boxes are reusable, so their logo remains a part of their employee's or client's life for years!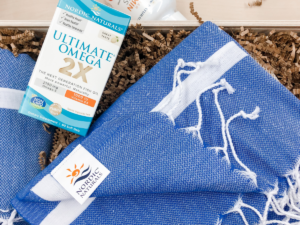 2. Order any customized items.
We have quite a selection of items available for our bulk clients! We can order towels in your company colors, add branding to your blankets, and even source from social enterprises supporting causes that line up with your corporate values. We love when clients take advantage of the opportunity to make our corporate gift boxes their own by adding products unique to their company!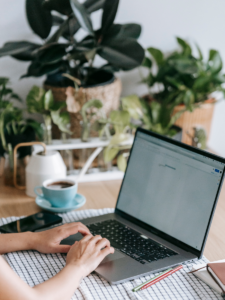 3. Meet with designer and create website, if needed.
For clients ordering over 1,000 boxes, we can create a custom website where employees (or clients) can order one of our luxury gift boxes. This allows the recipients to choose products from the limited options their company has selected and streamlines the ordering process for our clients and our logistics team.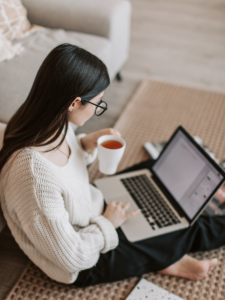 4. Send mock-ups of boxes and website to the client.
Once the products are selected, we will send mock-up boxes to the clients for approval. Is there anything they'd like to change? If so, now is the time. We also send them mock-ups of the website if that's a service they are utilizing. It's important to iron out any kinks ahead of time before large orders are placed or gift boxes are shipped.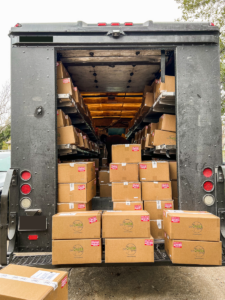 5. Package, Ship, Repeat.
Once all the details are ironed out, the "real work" begins. With a full-time team of three, it's quite an undertaking to hand-pack these larger orders. Don't get us wrong, we absolutely love it, but space and time operate on a different continuum during the holiday months. We call in all our favors from family and friends to ensure we meet the client's deadlines!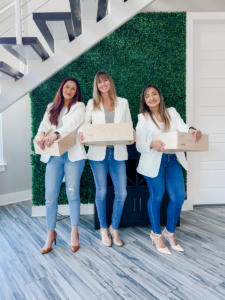 6. Document key learnings.
After the shipping is complete, and we've slept for a minute or two, we document our key learnings. What went well? What could have gone better? We try to get the same information from our corporate gift suppliers. How did things go on their end? This is an important step to make sure we continue to improve every time!
If you're looking for a bulk corporate gift order, we hope you will choose to purchase empowering gifts, whether it's from us at beCAUSE minded, or another social enterprise. There's so much power in your purchase!
Have you had any great experiences with corporate gifting? Tell us about it in the comments!