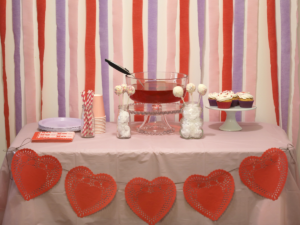 At my daughter's elementary school, they call Valentine's Day the day of love and friendship. I love the idea that we can celebrate all kinds of love on Valentine's Day. At her age, there's not much interest in romance, so it's clear that all of the Valentine's Day cards and gifts are friendship oriented. But what I've found as I got older is that there can be confusion about whether a person is sending a gesture of friendship or a romantic invitation on Valentine's Day. This can be a tricky situation to navigate, especially in a workplace.
Does that mean you should skip Valentine's altogether? No! That would be a lost opportunity to add some joy to your team. But some ways of celebrating are more appropriate than others.
Here are some ways to add Valentine's Day cheer without sending any mixed signals! We've included both in-office ideas as well as ideas for teams who work remotely, like ours!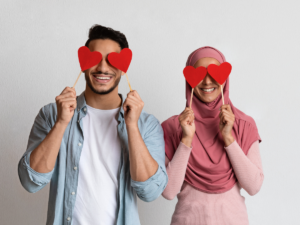 1. Have some fun snacks in the office. Heart-shaped cookies, cupcakes with a Cupid on top, those little hearts with funny sayings on them – you get the idea. Adding just a little festivity to the office snack room is a great way to celebrate the holiday. For remote teams, try sending out little care packages. You can find these ready-made, or you can make your money go a bit farther if you assemble them yourself.
2. Create a friendship wall. Your employees can take heart-shaped Post-It notes (a quick Google search will show you several options for these) and post messages of friendship on the wall. If you're able, be sure everyone on your team is included. For remote teams, you can set up a Slack or Teams Channel named Friendship Stories and ask them to share their messages in that channel.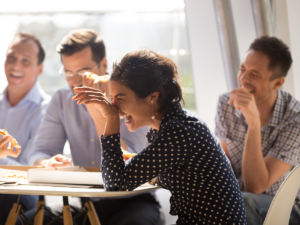 3. Set up a photo op wall with silly props. Not everyone will participate in this activity, but those who are excited about Valentine's Day most certainly will! For remote teams, ask your team to wear a Valentine's inspired shirt on your video calls. Offer a small prize to anyone who participates.
4. Create an email newsletter for your internal team. Call out acts of friendship you've seen in the recent weeks and tell them how much you love having a team who works together toward a common goal.
5. Share your worst Valentine's Day. If you want to generate some laughs, use this as an ice breaker prompt. For this one, we recommend not making everyone participate just in case someone's worst Valentine's Day is too personal to share.
6. Send a gift. When thinking about gift ideas for your team, we recommend going with something simple, like a candle or a small plant. If you choose to give Valentine's Day gifts to your co-workers, it's best to have a "one size fits all" approach to gifting, meaning everyone gets the same gift. That way there's no confusion on the messaging.
We hope you enjoy these ideas and incorporate fun ways to celebrate all kinds of love in your workplace. What about you? Have you ever celebrated Valentine's Day at work? If so, how?