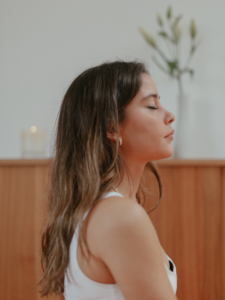 "Rest and self-care are so important. When you take time to replenish your spirit, it allows you to serve from the overflow. You cannot serve from an empty vessel." – Elenor Brown
I think we all know this somewhere inside, right? We know that when we give 100% of ourselves to our work, our family, our communities, etc., we find ourselves burnt out. But in day-to-day life, it's hard to live this out and dedicate time to recharge. At this time of year, many of us are looking at how we'd like to change our lives for the better.
If prioritizing self-care is on your list, here are a few boxes that can help!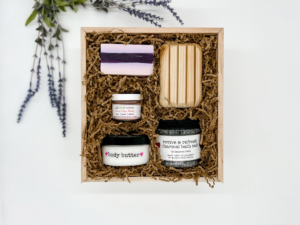 1. bePAMPERED
"Love yourself first and everything else falls into line. You really have to love yourself to get anything done in this world." – Lucille Ball
The bePAMPERED gift box features 5 items to help you enjoy some quality solo time.
– Enlightened Body Butter: This rich and creamy body butter has aloe vera, shea butter and essential oils, helping your skin feel hydrated and soft.
– Rose Clay Face Mask: This handmade mask cleans, exfoliates, and moisturizes. We love the rose clay mask because it's great for any type of skin.
– Jubilee Jam Soap: This triple milled soap is great for sensitive skin. The soap's aroma is delightful, featuring hints of blueberry jam.
– Charcoal Bath Salt: The Epsom and Pacific Sea Salts, along with activated charcoal, help detox your body and treat your skin, leaving you feel rejuvenated!
– Pine Soap Dish: This hand-carved soap dish is equally beautiful and functional – uniquely designed to help your soap last longer.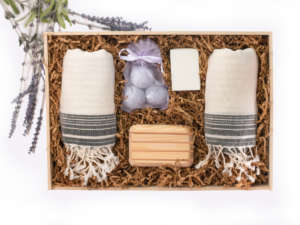 2. beUNPLUGGED
"Almost everything will work again if you unplug it for a few minutes, including you." – Ann Lamott
The beUNPLUGGED gift box invites you to put your phone, computer, and other devices aside and reconnect with yourself. It includes 5 hand-selected items.
– Pestemal Bath Towel (set of 2): These hand-loomed Pestemal (Turkish) Towels are some of our most popular items. Both soft and absorbent, they add luxury to function.
– Calming Lavender Bath Bomb: The scent of these bath bombs can take you from stressed to relaxed at warp speed.
– All-Natural Olive Oil Soap: These cold-pressed soaps are handmade using a tradition passed down from generation-to-generation. They are known to be ultra-moisturizing.
– Pine Soap Dish: What is a great soap without a soap dish to help it last longer? The neutral design helps this soap dish fit in with any room.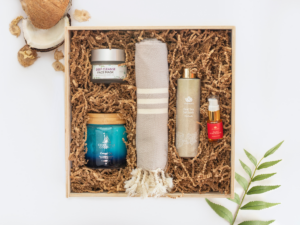 3. beRADIANT
"One thing I keep hearing from women across the country is how hard it is for us to put ourselves first. We're the first to care for our friends, families, coworkers, but we are last on our own list. The good news is we can make a change." – Michelle Obama
Let the radiance you feel on the inside show on the outside! This wellness gift box includes gifts that will make your skin feel its best!
– Kumkumadi Oil: This has to be one of the best kept secrets on the planet. Our kumkumadi oil is superpowered by 32 nourishing herbs and flowers – making your skin feel fresh and young!
– Dead Sea Salt Scrub: On its own, or combined with the kumkumadi oil, this scrub has sea and mineral salts to help refine and purify all skin types!
– Virgin, Cold-Pressed Coconut Oil: This is a pure and antioxidant-rich coconut oil that can help limit signs of aging, fight free radicals, and boost your body's natural defenses!
– Dead Sea Mineral Mask: Made with 100% Dead Sea mineral mud, this mask takes cleansing to a deeper level – drawing out impurities and toning your complexion.
– Pestemal Hand Towel: This Pestemal Hand Towel is a great companion to the other items included in this wellness box. Dry your face with this soft, cotton, hand-loomed towel.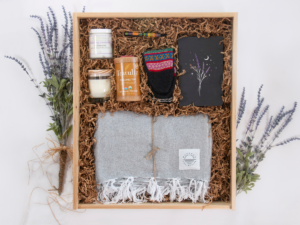 4. beRELAXED
"The time to relax is when you don't have time for it." – Sydney J. Harris
We love the beRELAXED wellness gift box. It's true to its name, providing everything you need to create an environment perfect for relaxation.
– Ash Blanket: This camp blanket is perfect for relaxing indoors or outdoors! It's the perfect weight and size to relax wherever you go!
– Lavender Sprig Candle: The flicker and scent of this candle create an unwind-ready ambiance. This soy candle will provide hours of this subtle herbal flower scent.
– Calming Lavender Lotion: Relax and moisturize all in one step! Lavender is known to help you let go of built up tension in the head and body.
– Lavender Journal: This layflat journal is the perfect place to put your thoughts – in poems, songs, or to-do lists. Getting your feelings out on paper can help you let go of thoughts keeping you up at night.
Page Break
– Handcrafted Shiloh Pen: This pen is the perfect partner for the layflat journal. It's beautiful, unique, and writes effortlessly.
– Oolong Tea: A hot cup of tea, with spicy and floral notes, this Oolong tea can help you refocus on your relaxation goals.
– Pahari Socks: Warm your body from your toes up with these Pahari socks, made from "vegan wool," with all the warmth, but none of the itch!
We love these wellness gift boxes for helping get the year started off with a strong self-care regimen! What kind of products or services do you use to give yourself time to recharge?