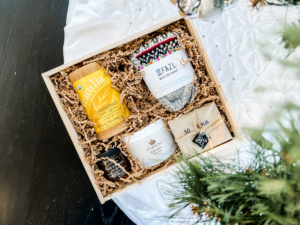 If you've had Covid in the last couple of years, and odds are, you have, take yourself back to that place – the fever, body aches, headaches, the lack of smell and appetite, and the general feeling of "ick" for days. And on top of that, you couldn't really see anyone. It was awful, right? Everyone on our team had Covid in 2021, so we all experienced the "ick" it brings.
I had Covid just a couple weeks before we began brainstorming new box ideas for 2022. The achy feeling was still lingering. I mentioned that I think our muscle relief bath salts may fit in well with a wellness gift box. We all put ourselves back in that place – and thought about all the things we felt and things we'd wished we had. Hot tea to soothe our throats. Warm socks to help fight the chills. Muscle Relief bath salts to help with those body aches. And something to get all the "sick" off and make us feel human again.
Thus, the beWELL gift box was born. A specially curated box to help you feel your best – whether you're sick or not! Plus, like all of our gifts that give back, the products in the beWELL gift box also help others! Let's take a deeper dive.
Included in the beWELL gift box: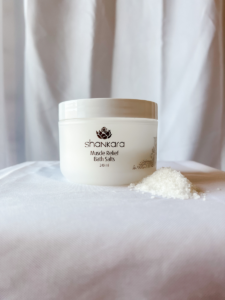 1. Muscle Relief Bath Salts
These salts feature Arnica, eucalyptus, lavender, and Epsom salts, helping soothe and restore your achy muscles, taking you from "ick" to "aaahhhhh…."
The purchase of these bath salts helps fund programs for veterans overcoming PTSD and schools for girls in developing countries.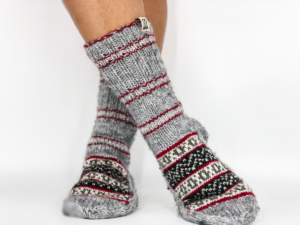 2. Uttar Socks
These vegan wool socks will keep all your little piggies warm. They are thick, comfortable, and unique – handmade with Himalayan designs by women in the Himalayas.
The profits from these socks support orphanages in India.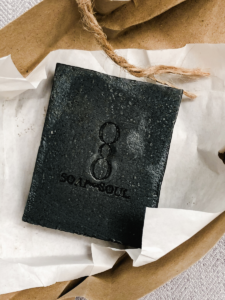 3. So Black Charcoal Soap
The detoxing charcoal, combined with exfoliating coffee grounds and premium skin care, makes you feel refreshed and cleansed. The fresh scent is perfect for a man or woman.
This product helps the planet by giving used coffee grounds a second life, keeping this greenhouse gas-producing waste out of landfills.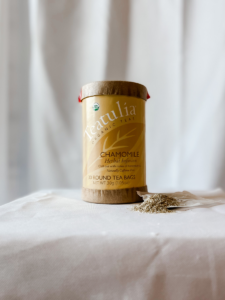 4. Chamomile Tea
Perfect for a wind down to the evening, or to soothe a sore throat, our Chamomile tea comes with hints of honeysuckle and sugared candy. With no caffeine, this tea is perfect for any time of day.
The purchase of this tea provides work for farmers in an impoverished region of Bangladesh.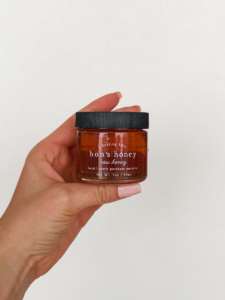 5. Honey Sampler
Many people add a little honey to sweeten their tea, but honey is so much more than a sugar substitute. It is rich in antioxidants and has antibacterial properties – helping your immune system fight off those nasty germs!
This honey is packaged by sex trafficking survivors and at-risk women in Baltimore.
According to the news, just about everyone is or has recently been under the weather. With so many things going around, it's no surprise that people are ready to give the gift of being well with our best-selling beWELL gift box!
If you were creating a get well soon gift box, what would you include?