As we wrap up our second full year, it's a natural time to reflect on what we've accomplished, what we've learned, and where we are headed next.
In 2022, we had some major wins –
We provided Jacquelyn, our social media manager, with a paid parental leave.
This leave is something our founder has been working toward since she started her first business 10 years ago. We worked for the first few months of 2022 to prep for her leave – getting content completed months ahead of time so we wouldn't drown while she was out. It was a massive, but worthy undertaking. We're so thrilled that Jacquelyn had time to bond with her sweet boy during those first few months.
We launched two new boxes that became our #1 and #2 best-sellers.
Earlier this year, we knew we needed some fresh boxes to add to our collection. We launched the beWELL and beZEN gift boxes. These became our best sellers almost overnight. It gives us all the warm and fuzzies to know our customers enjoy the new personal and corporate gift boxes we've curated!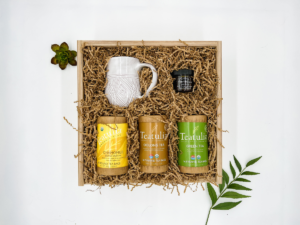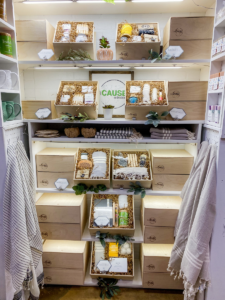 This year, for the first time ever, you can get beCAUSE minded wellness gift boxes in a brick-and-mortar store! The Austin Gift Company is such a cool shop with spaces for small businesses local to Austin. We have a space there where our local shoppers can pick up select beCAUSE minded curated boxes and marketplace items.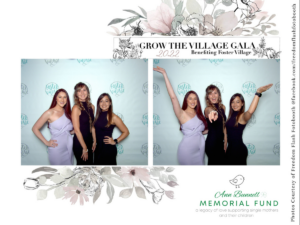 Our entire team was able to attend the Foster Village Gala together this year. If you're a new reader, Foster Village is the nonprofit we give our profits to each year. They support foster children and those who love them. At the gala, we were able to learn more about the organization, their vision, and how critical the need is for this support.
2022 was also full of learning opportunities. One of Jessica's teachers used to say a day without learning is a day wasted. We don't think we've had any wasted days this year. Here are a few of our key takeaways –
Be careful with which trade shows you attend.
Trade shows are a ton of work, and if you choose the wrong one, the strain on your resources can be unrewarded. This year we attended one show that projected 10,000 attendees. The actual number was closer to 700. It was painful. Moving forward, we will be sure to vet other vendors who have participated in the trade show we plan to attend before signing the dotted line.
Jessica learned how to do reels.
With Jacquelyn's parental leave, Noraliz and Jessica had to step up from time to time on social media. Jessica, who is sometimes challenged in the social media area, became pretty proficient at social media reels, even posting one on her personal IG feed!
Hammock chairs just don't sell.
Noraliz knew this before we bought them, but Jessica thought hammock chairs would be a great addition to our wellness gift boxes. They're so comfortable and relaxing. To date, we have sold exactly one hammock chair. So, we're going to be clearing them out to make room for items that fit better in our personal and corporate gift boxes. Look out for markdowns in the new year!
As we shape our strategy for next year, we're taking into account our wins and our lessons learned. We have loved this journey so far and look forward to seeing where 2023 leads us!