The holidays are here, and if you're like us, you're in the thick of ten thousand things. Prepping for your own family gatherings, getting things tied up at work before you leave, and maybe a company holiday party or 2. Oh wait…and that secret Santa thing with your running friends (or church group, office, etc.) that you almost forgot about.
No worries. We've got you! Whether it's a Secret Santa, White Elephant, or a donation for a raffle, we've put together gift ideas that are great options for both men and women and come in neutral colors to fit anyone's style!
Secret Santa Gift Ideas: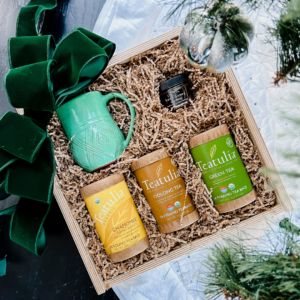 1. beZEN
This box is really what everyone needs this holiday. Odds are very, very good that everyone in your Secret Santa gift pool could use some serious Zen. I mean, who doesn't these days? This tea-sampler was actually inspired by a custom order last year. Our customer wanted a few teas with the honey sampler and loved the Taino Mug. We realized that many customers would enjoy this selection and made it a permanently featured gift box!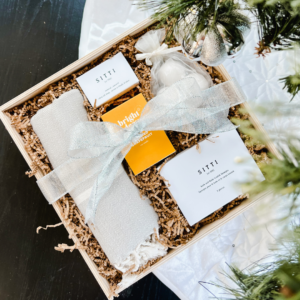 2. beSERENE
This gift box is the tangible way to give someone time for themselves. The beSERENE gift box features our grey Pestemal bath towel, which is our most popular selling bathroom essential. It also comes with everything you need to set the mood for some relaxing me time – a moisturizing olive oil soap, exfoliating natural loofahs, soothing honey oatmeal bath bombs, and our sugared grapefruit candle in a signature glass.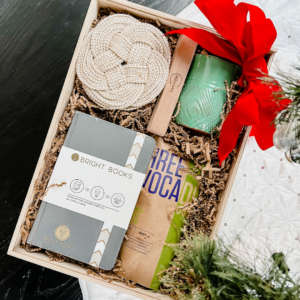 3. beINTENTIONAL
This gift box is perfect for anyone who loves to start their day with purpose…and caffeine. This one is one of our more popular corporate gift boxes, but works for anyone – the dreamer, the planner, the goal-setter, the artist, and more. With the artisan mug, French roast coffee, hardcover journal, handcrafted pen, and the newly added hand-knotted coasters, this box creates a way to gift someone the perfect morning.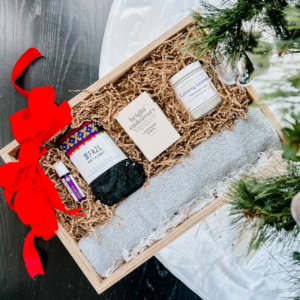 4. beHYGGE
Say hello to our newest addition! As with many of our ideas, the idea for this gift box was planted by a custom order. They wanted the ash camp blanket in a smaller keepsake box. It took about 600 tries to find a way of folding the blanket that fit, but we did it! This box features the ash camp blanket, which is perfect for sitting around a campfire, camping, music festivals, and well, just about everything! We added some sleep supporters– our Divine Dreams essential oil roll-on, thick and cozy socks, the lavender sprig candle, and lavender lotion – to help create that hygge feeling.
5. Build Your Own
As you've read, some of the best boxes are custom orders our clients put together. If you haven't checked out our custom box order page, it's very simple. All custom boxes start with a wooden keepsake box. Then you can fill the box with up to 6 empowering gifts from our online marketplace. We will select the box that fits best with the items you ordered. Who knows – maybe your custom box will inspire a new featured box!
In addition to having a stellar gift for your secret Santa or white elephant party, any purchase you make from beCAUSE minded leaves a lasting impact on the people and the planet we inhabit. All of our suppliers either employ the vulnerable (i.e. transitioning homeless, people with disabilities, sex trafficking survivors, refugees, etc.) or donate at least 50% of their profits toward a cause such as education for girls in developing countries, support for families affected by cystic fibrosis, and support for veterans working to overcome PTSD. Thank you for joining us in our mission of #EmpoweredGifting.