Client welcome gifts are a standard practice in many industries. But when not done well, it won't get you the results you're hoping for. I mean, who really wants another branded mousepad? Before you purchase a client welcome gift, let's pause and think about what your goal is. You want to show your client appreciation for choosing your product or service. It's not about checking a box. So, when you're shopping for gifts for clients the key to success is to purchase a thoughtful gift that communicates your appreciation. Sounds easy enough, right?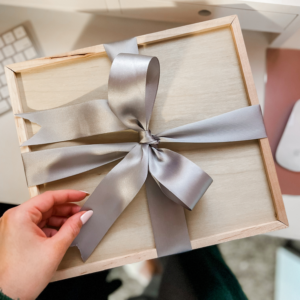 There are a few things that can make this more challenging than it first appears.  
Often, you don't know your clients very well, especially at the beginning of your working relationship. This can make it difficult to purchase a personal gift. But that doesn't mean it can't be thoughtful. 

 

You are tight on time, and haven't planned out a budget or gift options, so you're starting at square one each time. 

 

You don't have a suitable gift budget. So, instead of focusing on showing your appreciation, you are scrounging for low-cost options.

 
Let's address these one by one. 
Even if you don't know your client personally, that doesn't mean you can't get a meaningful gift. Start with what you

do

know about them. If they're a parent, try a gift the whole family would enjoy. Do they love to travel? How about a toiletry bag filled with a few higher-end travel sized products? Even if you're a little off the mark, they will know you made an effort to find something they would enjoy.

 

Time constraints plague every working person I know. We all have quarterly goals we need to deliver and supervisors waiting for updates. So, where is our time for client gifting? The key here is to spend time on the front end curating a few ideas – what can be your go-to site that provides quality gifts and aligns with your corporate values? Are there 2-3 gift options that would work for most of your clients? The time you spend on the front end here will help you be more efficient in the long run. 

 

If you don't have client welcome/appreciation gifts in your budget, we recommend you redo your budget – right now. While it's always been true that people do more business with people they like, now, more than ever, people are choosing to spend with companies and people they

feel

good about. Making them feel seen right at the start will set you up for a positive relationship. 

 
Need some ideas for your next corporate gifts? Try these luxury gifts that give back!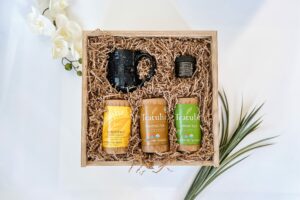 For the person that works at home: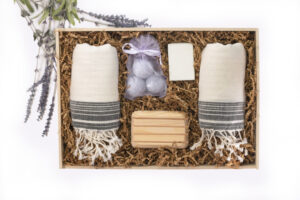 For the entrepreneur who has a hard time getting away: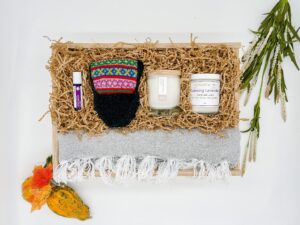 For the busy bee (mom, volunteer, etc.) 
You can also add your logo to any of our gift boxes if you prefer to send branded business gifts to your clients. 
No matter which gift you choose, make sure you include a personal card. If possible, include something that stood out to you from your call or meeting to let them know you thought of them specifically. For some people, the best way to show appreciation is to say it with your words! 
How does your business handle corporate gifting? Are there guidelines set up, or does each person handle gifting individually?