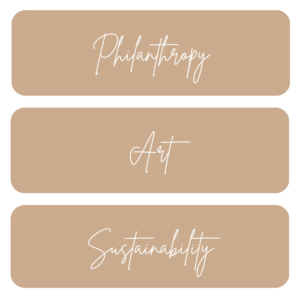 Product selection is one of the hardest parts of our business. We have to find products that are high quality, marketable, and will fit in one of our keepsake wooden boxes. Oh yeah, and because we only carry gifts that give back, we have to vet the suppliers to make sure they are laser-focused on achieving a mission that makes the world a better place. There aren't very many suppliers who pass the beCAUSE minded qualification round. Only about 10% of the products we research fit the specs. We order samples of these products, and only about half of the samples pass the quality check. In short, it's difficult to become one of our personal and corporate gift suppliers.
But Wakened Collective impressed us all. Their mission is to live at the intersection of philanthropy, art, and sustainability. We were inspired by the beauty of their products and how intentional they are with every step of their sourcing. They are artists with a heart for people and the planet.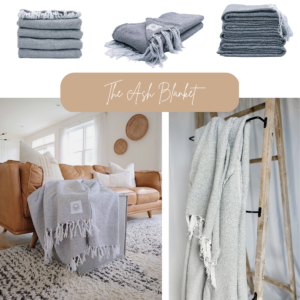 We carry Wakened Collective's Ash Camp Blanket. It stood out to us for many reasons. First, the blanket is beautifully made and is perfect for inside or outside. Many of our customers purchase our gift boxes as corporate gifts. Often, you don't know these contacts very well, so the fact that this blanket has multiple uses makes it perfect for everyone – from the Netflix binger to the outdoor enthusiast, males and females, young or mature.
Artisans in Tlaxcala, Mexico earn fair trade wages making these blankets. Approximately 24% of residents in this area are in moderate to severe poverty. For reference, this is about twice the rate of the United States. Fair wages are an empowering way to build up the community and break the cycle of poverty.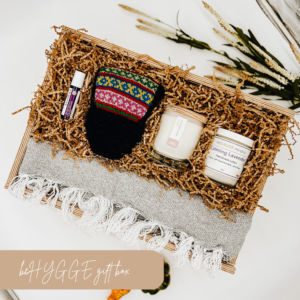 This blanket is also made of 100% recycled textiles. Yes, 100%! The materials these blankets are made from was headed straight to the landfill but was diverted to make these zero-waste blankets. Because of this, each blanket is truly unique. The coloring and thickness of each blanket varies slightly, which is part of what makes them so charming.
Lastly, we love that funds from each item are donated directly to a cause. For this item specifically, 10% of each blanket sold is donated to the International Rhino Foundation.
Inspired? So were we!
We knew these blankets would be a hit. They started off in one of our larger boxes, but then a customer purchasing gifts for employees wanted to see if we could fit these in our 11×16 wooden keepsake boxes. And with lots of creative folding, they did! After this, we created an 11×16 box featuring the blanket, our beHYGGE gift box. It instantly became one of our favorites.
If you're looking for a gift that's perfect for just about anyone, it's the Ash Camp Blanket. It's a wonderful gift on its own, you can find it in the beHYGGE box, or create your own mix of products using our custom gift box option. If you received an Ash Camp Blanket, how would you use it?