If you want to build a healthy company culture, celebrate wins. Bring more highlights to your company newsfeed. Your employees spend most of their days in their roles – working on projects, solving issues for clients, handling internal issues, etc. Adding celebratory moments gives your team a chance to remember that what they are working on is part of a team effort, even if their project is an individual one.
There are three occasions we celebrate every year for every employee: birthdays, Christmas/winter holidays, and work anniversaries. We add celebrations for weddings and new additions to a family when the opportunities present themselves. Of course, my primary love language is receiving gifts, so celebrating special occasions comes pretty naturally to me, and I truly love it.
When speaking with other business owners, it seems many celebrate the winter holidays, a few celebrate birthdays, but not very many celebrate work anniversaries. Personally, I think this is a lost opportunity to celebrate the time that individual has dedicated to helping your company move toward its vision. We spend so many hours at work. We give so much of ourselves to help advance the company we call home. It makes sense to celebrate the dedication!
Celebrating work anniversaries is also a natural time to acknowledge how far someone has grown since they started working at your company. At my first company, we had someone advance from entry level to Director of Operations. This employee's work anniversary is a good reminder for the newbies on the team that there are opportunities to grow!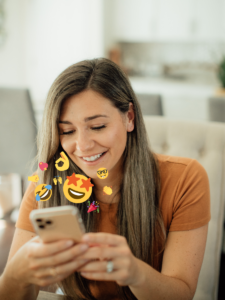 Now that I've (hopefully) convinced you that celebrating work anniversaries is a must, the question is, "How?" Here are a few ideas!
1. Send an announcement
We send our shout outs in Slack, but you could use Microsoft Teams, Google Chat, or a simple email. In these messages, you can compliment the employee's growth, performance, work ethic, flexibility, or other attributes you feel make them a valuable part of the team. You may call out a particular transition they were a part of, like a merger or transition to a new operating system. Sending an announcement allows others to join in on the celebration by adding their own celebratory comments!
Emojis are recommended. :)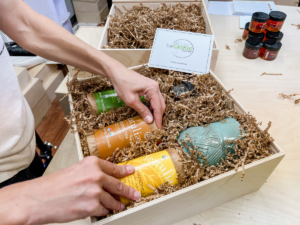 2. Send a gift
At beCAUSE minded, we choose specific branded business gifts for each year. So, everyone gets the same gift on their one year beCAUSE minded anniversary, their second, etc. We like this system because after a few years, our employees have several nice gifts to remind them how much we appreciate them.
Some of our luxury branded corporate gifts were designed with this purpose in mind. The beZEN, beINTENTIONAL, and beHYGGE work well for work anniversary gifts.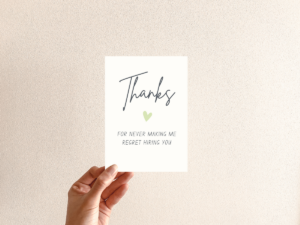 3. Send a card
Who doesn't love to get a handwritten card in the mail? This provides you more space to tell your employee how much you appreciate them and highlight a few of their key wins. A card lends itself to a more personal message than a group Slack message or email. Your words will fill the bucket of those who truly value words of affirmation, and is valuable with or without a gift.
If you know your employee well, try to get a card you know they will find funny or meaningful.
Unlike birthdays and the Christmas season, work anniversaries are an occasion usually only celebrated at work. This offers a unique day to let your employee's commitment and accomplishments shine.
Does your company celebrate work anniversaries? If so, how?