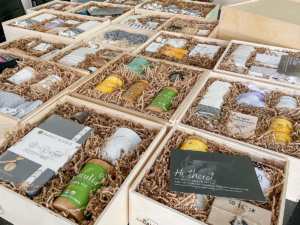 When it's done well, the person in charge of corporate gifting has the opportunity to impact the company culture, relationships with clients, and when they choose gifts that give back, they have the power to make a worldwide impact.
Many companies spend more on corporate gifting than individuals. After all, in corporate gifting, the idea is that there's a return on investment – whether that's lower turnover, an increased number of referrals, or larger orders. In many industries, corporate gifts are a planned expense each year.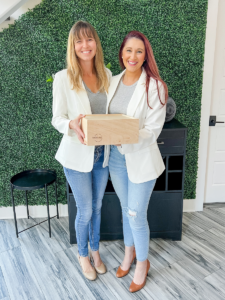 This was true for my first company. Our corporate gifting budget was less than 1% of our overall revenue, but that still added up to thousands of dollars. We used to buy Apple watches, high-end gym bags, and other luxury branded corporate gifts for our clients. But we never really knew if our clients used them. We realized our money could be spent better. Eventually, we decided that we didn't want to settle for great gifts OR gifts that give back. We wanted both. That way, even if the gift wasn't a hit, we knew we had made an impact through the gift we purchased. We realized other companies had the same needs, and thus, beCAUSE minded was born.
Since launching, we have learned a lot about corporate gifting. Some lessons we've learned the hard way.
Turns out – hammocks aren't a sought-after item in the corporate gift world. If only we'd listened to Nora, lol.
If you have a basic website and send 1,500 people to it at the same time, it will crash.
You can fit about 600 boxes in the living room/kitchen of a 1,200 square foot house.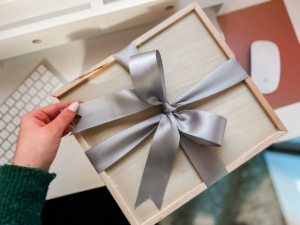 Other, less painful, things we've learned:
There's not one role in a company that usually does the corporate gifting. It varies from company to company. Our corporate orders have come from CEOs, HR managers, admin assistants, and more.
No matter what their title, people purchasing corporate gifts prioritize three things: time-efficiency, quality of products, and value.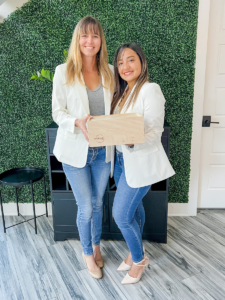 People who have done corporate gifting know that it takes a significant investment of time and money to find products that check these three boxes. Most executives don't have this kind of time. They want simple options that fit their needs. At beCAUSE minded, we fill these needs + all our gifts support causes – like educating girls, employing refugees, and providing clean water in developing countries (just to name a few).
For some companies, a simple gifting solution means they want 2-3 options ready to be branded and sent any time they close a sale. Others want a custom gift box for each member of their sales team for an upcoming conference. The options, and the impact, are practically limitless.
If you're following beCAUSE minded, and you're this deep in the blog, you're probably already on board with our mission of empowered gifting. And you can help us spread the word! If you know the person in charge of corporate gifting at your company, would you please introduce us? We'd love to create special branded business gifts for your company – while also supporting causes around the globe. Feel free to copy your person on an email with me at jessica@becauseminded.com.
Thank you for your support.